3 Up, 3 Down: Game 1 of the AL Wild Card Series
That's certainly a thing that happened
Thanks for checking out Access Twins.
Thanks especially for clicking any links after such a demoralizing loss — the 17th straight for the Minnesota Twins in a playoff game.
Let's re-frame that; the Twins haven't won a playoff game since:
We can talk about that more another day, but I think the plan for postgame coverage on Access Twins for this postseason and hopefully moving into the 2021 season will be to do a '3 Up, 3 Down' recap of everything that happened in the game.
So without further ado, here's the 3 Up, 3 Down for Game 1 of the AL Wild Card Series — a 4-1 loss to the Houston Astros:
3 Up
Framber Valdez
We openly opined Tuesday morning if Valdez might not be the ideal Game 2 starter for the Astros, but Dusty Baker had different ideas. He lifted Zack Greinke after 79 pitches and four innings to go to Valdez, who held the Twins in the palm of his hand for the final five innings with very little potential for damage after walking the first two batters he faced.
The Twins' struggles against lefties are well-documented — and Valdez's stellar curveball served notice as well. After Marwin Gonzalez and Luis Arraez opened the fifth with walks, Byron Buxton struck out looking, Max Kepler flew to left and Nelson Cruz hit a weak grounder to third that Alex Bregman made a terrific play on to end the inning, and the threat.
No Twins batter reached again until Miguel Sano whistled a one-out single to right with the Astros leading by three runs at that point.
Bringing Valdez in was a very calculated move by Baker, who propped up a sagging bullpen and got his team to capture a very valuable Game 1 win. This was the perfect outcome for the Astros, who also didn't expose Greinke beyond two times through the order. He did settle down after a tough first inning in which the Twins loaded the bases and did not score, but overall his numbers were underwhelming: four innings, one strikeout, three walks.
Kenta Maeda
Maeda wasn't perfect, but he was pretty damn good. He gave the Twins two full trips through the order plus two more batters, and successfully navigated choppy waters in the fourth inning while allowing single baserunners in the first and second innings.
Maeda went slider-heavy, and got seven swinging strikes on it on a day where his changeup wasn't much of a factor (zero swinging strikes on 13 thrown).
It might have seemed worthwhile to give Maeda another inning, but he's experienced a steep dropoff this season in his third trip through the order:
First time through: .134/.152/.258

Second time: .156/.182/.302

Third: .267/.340/.422
In all, this was about what should have been expected from Maeda in this spot — the rest of the team just couldn't hold up its end of the bargain.
Michael Brantley
Brantley, an impending free agent, was the only hitter on either side to pick up more than one hit. He poked a two-out double in the first off Maeda but was stranded, and then provided the death punch with a two-run single to center in the eighth inning off Caleb Thielbar.
More importantly, Brantley picked up a big hit off a tough lefty in a spot his team needed him — something the Twins couldn't buy all day long. The Astros were 2-for-9 with runners in scoring position, which is by no means world-beating, but the Twins were a brutal 0-for-7 and outside of the first inning took some pretty ugly plate appearances in big spots.
3 Down
Jorge Polanco
After playing better defense during the regular season, Polanco undid all of that good will with this play which led to three runs and ultimately the loss.
The honest-to-goodness truth is that Polanco isn't good enough of a defender to play the baseball this way. He fielded the tough hop capably, but rather than collecting himself and making a strong, accurate throw with time to spare, Polanco opted for the quicker, more risky flip and it ended up costing the team dearly.
It was an ugly play and it came in a spot where it's just inexcusable. Polanco hit just .258/.304/.354 this season and has been a non-factor for most of the year with the bat. Since Sept. 1, he's hit just .240/.305/.320. Since Aug. 1, it's virtually identical at .256/.304/.344.
To be in the lineup on a daily basis with that line, a player has to make all the routine plays — and Polanco didn't do that in a huge spot. Will Ehire Adrianza make the start at shortstop on Tuesday? Maybe not — but it would be a defensible move for manager Rocco Baldelli.
Byron Buxton
A lot of the issues that have plagued Buxton at times this season were evident at the plate on Monday. Sure, he golfed a pitch into right for a single in the first inning and easily stole second on the next pitch — but even that was on a pitcher's pitch.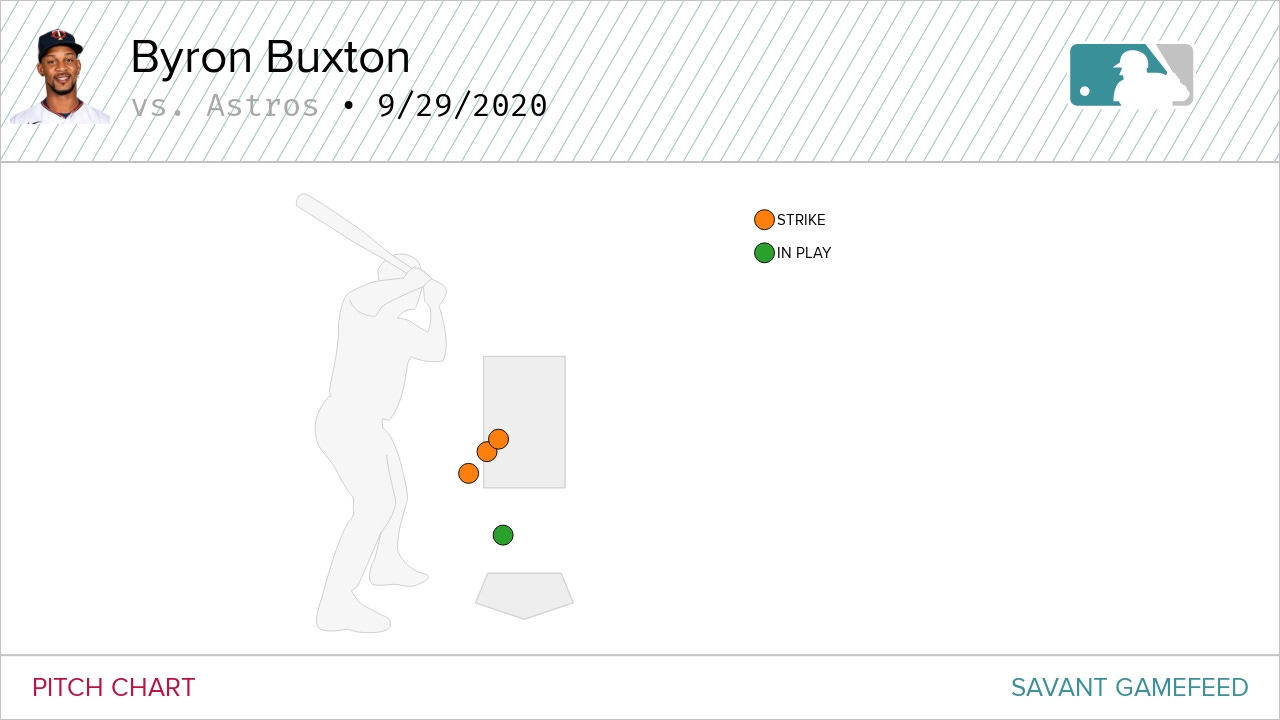 Buxton struck out three times over the course of the rest of the afternoon, and the chart of pitches he swung at is, well let's say it's not very selective.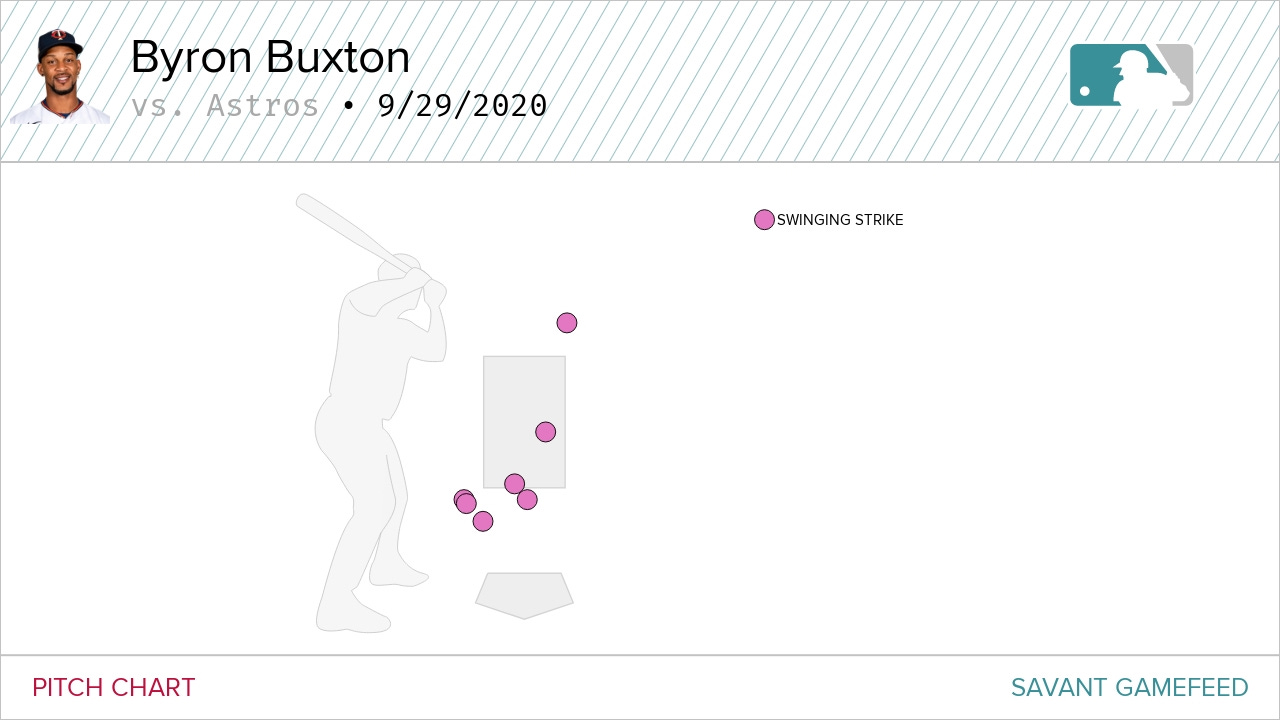 (images courtesy of Baseball Savant)
Buxton was brilliant when he made contact this season — he slugged .577, after all — but a 1.5 percent walk rate won't cut it for long. Pitchers — especially those as masterful as Greinke — can and will exploit that over the long haul, and especially in October.
Buxton has to rein it in or he's merely a huge high-risk, high-reward proposition at the plate on a team struggling to push runs across.
The offense, in general
After Buxton singled and Kepler walked with one out in the first, Eddie Rosario smashed a ball that Yuli Gurriel caught at first base for out No. 2. The ball had an xBA of .690, and came off the bat at 100.4 mph. That was followed up by Sano hitting a slow roller to Bregman, who nipped him by a hair at the bag to end the inning, and the best threat the Twins ended up having all day.
The Twins pushed across a run on a Nelson Cruz double with Kepler at first base in the third, but the rest of the day looked inept in spots where they could do damage. Buxton struck out looking, Kepler flew to left and Cruz hit a slow roller to third in the fifth inning after a pair of walks. Both were soft contact on 0-1 pitches.
The Twins got things cooking again in the ninth off Valdez with two on and one out, but pinch-hitter Willians Astudillo grounded a first-pitch curveball to Bregman, who stepped on the bag at third and fired to first for a game-ending double play.
Both of the balls hit for singles in that inning were fastballs, and for some reason Astudillo swung at a first-pitch curveball. That's just poor situational awareness and can't happen in that spot — even if a comeback was not particularly likely in that moment.
It's been a weird season offensively for the Twins — but if they don't show up on Tuesday, the postseason will be over some 30ish hours after it started.
Bonus Takes
Frankly, I didn't have a problem with how Rocco managed the bullpen in this one — and it's definitely not an apples-to-apples comparison in bullpen management between him and Baker. The Astros bullpen is awful, and he burned possible Game 2 starter Valdez to grab an important Game 1 win. But he didn't have a choice. As for Baldelli, Twins fans saw how Aaron Boone managed last year's Division Series, which is basically backward from how the regular season is managed. In the postseason, it's more prudent to go with your best relievers while giving your offense a chance to break this thing open. They didn't do that. But if you draw up a blueprint on how to win Game 1 from a pitching standpoint, it definitely includes Maeda/May/Duffey/Rogers/Romo and by the time Thielbar entered, things were already dicey. And credit to Brantley for getting a hit off Thielbar, who'd held lefties to a .136/.240/.136 line this season. Brantley, himself, was just a .231/.273/.365 hitter against southpaws this season. You take that matchup 10-of-10 times.
Sergio Romo deserved better. The singles he allowed had exit velocities of 75.2 and 71.0 mph. None of the balls he allowed contact on were hit harder than the George Springer ball Polanco muffed at shortstop which came off the bat at 81.4 mph. Make no mistake; Romo wasn't particularly good. He had trouble locating his pitches — including a bases-loaded walk to Jose Altuve — but all of that would have gone away with a simple play made at short by Polanco.

I also thought the challenge Rocco burnt in the first inning was defensible though it caught some ire on social media. With two at his disposal, Baldelli opted to challenge a bang-bang play at first base with Bregman getting Sano by an eyelash. The odds of it being overturned were slim at best, but the risk (losing a challenge) was far outweighed by the reward (Sano reaches, Twins score and still have the bases loaded with Polanco coming up) in that spot.