Five Bold Twins Trade Ideas
Hey, let's have a little fun with it
This is going to be a wild offseason. There's almost no predicting what the winter will look like in free agency with an abbreviated fanless season in the rear-view mirror and contentious CBA negotiations brewing in the near future.
Still, we'll have some fun with it here at Access Twins. There'll be a mock offseason. Maybe multiple ones depicting levels of spending and aggressiveness the Twins might undertake into a potentially busy winter.
Trades are pretty much always this hard to imagine. Sometimes teams deal for needs. Sometimes they identify a blocked prospect and try to rescue them from the situation.
Sometimes it's just a good old fashioned baseball challenge trade™ where each side gets back something substantive but it's unclear who wins the deal until a while down the road.
So let's have some fun with it. Here are five bold trade ideas for the Twins. Don't take these too seriously. I won't answer hate tweets if you think they're dumb. It's OK if you do. But sometimes it's enjoyable to just pretend you're playing MLB The Show and see what you can cook up.
Twins trade Eddie Rosario to the Rockies for Jon Gray
For the sake of analysis and to have this handy in the future, let's pull a screen grab from MLB Trade Rumors for the projected arbitration salaries this winter from Matt Swartz — a former colleague of mine at Fangraphs and Baseball Prospectus.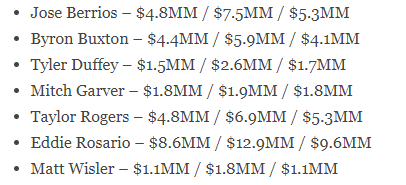 So as Swartz notes in the piece, the first figure is based on this seasoon's stats, figure two is extrapolated to a full 162-game season based on those stats and figure three gives players 37 percent of the 162-game-baseed raise — which is equal to the percentage of games played this season compared to a regular season.
My sense, for what it's worth, is that the third number is probably the closest. In that case, it's projecting the Twins to pay Rosario just a shade under $10 million — probably a prohibitive figure for a team with a few, but not a ton of, needs and an ample amount of outfield depth in the upper minors.
However! The model also has Gray pulling down $5.9 million from the Rockies. Both players are in their final year of arbitration-eligiblity.
Why would the Twins do it? Basically, they'd view Gray as the ultimately buy-low candidate for Wes Johnson to work on. Everything about Gray prior to this season screams "save me from Colorado!"
4.46 career ERA in 641.1 innings

3.77 FIP, 3.62 xFIP

9.4 K/9, 24.5 percent K rate

3.0 BB/9, 7.7 percent BB rate

47.1 percent groundball rate
For the Twins, it's the ultimate lottery ticket. If he cashes out at his 100th percentile, he's what they were hoping for when they targeted Zack Wheeler last offseason. If he doesn't, they're out $6 million and an outfielder who was on borrowed time anyway — all while saving a few million bucks in the meantime.
OK, so don't the Rockies need pitching? Isn't Gray cheaper?
The answer to both of these is yes, but through six big-league seasons, where's the proof that year No. 7 is going to be the breakthrough for Gray? Are they apt to non-tender him and receive nothing in return?
Or do they trade him for Rosario, who would almost certainly mash in Colorado — even if he does depart in free agency a year later.
Why would the Rockies do it? Adding Rosario gives them insurance against David Dahl's injury woes — and that would especially help if the National League adopts the universal designated hitter in 2021 as well.
Also: Gray was really, really bad in 2020. He posted a 6.69 ERA in 39.0 innings and was shut down with shoulder issues down the stretch. Of course, those are worrisome but offseason deals come with physicals — so he'd have to pass to be dealt.
Gray is cheaper and a pitcher, but by virtue of being a pitcher and Colorado being Colorado, he's also the riskier player.
Twins trade Mitch Garver to the Yankees for Miguel Andujar
So this one is bound to be unpopular, and I get that. But hear me out. It will feel like selling low on Garver, and maybe it is. But the Twins have Ryan Jeffers — and a free-agent market to find him a little help — and pairing him with Garver gives them two guys who don't necessarily seem to mesh well as a starter/backup or really a 1a/1b.
Why would the Twins do it? OK, so first of all there's the Jeffers factor. He looked pretty legit in his 26-game cup of coffee (119 wRC+, plus-0.5 fWAR) and appears to be a good mix between in the batter's box and behind the dish. How much should he play next season? Probably a lot, right? Do the Twins really want to send him back to Rochester?
And then there's Garver, who will actually turn 30 in January. That's certainly not old by any means, but probably older than most fans realize. Maybe he isn't as good as he showed in 2019 (157 OPS+) but he's definitely not as bad as he was in 2020 (42 OPS+) either.
If we combined those two seasons, he's still a .253/.343/.561 hitter in 116 games. If we push it back to include 2018, he's a .260/.340/.496 hitter in 218 games. And if we include his rookie cup of coffee, he's a career .256/.337/.487 hitter (119 OPS+) in 241 games.
That's a really damn good hitter, and he's continued to progress as a defender as well.
All of this means that even after a tough 2020, Garver would still be an attractive trade chip.
So why would the Twins move him for Andujar, who hit just .242/.277/.355 in 21 games for the Yankees this year?
Well for one, Andujar will be just 26 for the entire 2021 season. He did not make the cut for arbitration according to MLB Trade Rumors so he'll make near-minimum in 2021.
He's under club control through the 2023 season, and in his last healthy season, he hit .297/.328/.527 — good for a .361 wOBA and 130 wRC+.
That was, however, in 2018.
When Andujar was healthy, he was an offense-first third baseman. He's not regarded as a good defender — and that was before he had labrum surgery. Since returning, he hasn't really hit but has branced out defensively to play some left field — though there isn't enough data to really get a good feel on how he's doing out there.
His 2018 numbers kind of remind you of Rosario, don't they? An .855 OPS despite a .328 OBP, 97 strikeouts and only 25 walks?
But ultimately, it'd be buying low on a big-time bat who, if he reaches his potential, would hit enough to be playable at first base or DH. Or who knows, maybe in the outfield?
Again — he'd have to pass a physical to show his shoulder checks out.
Maybe this isn't getting enough back for Garver. I'm certainly open to that suggestion. But I also think it's a really good gamble on a high-end talent when the Twins have capable depth at catcher behind Garver.
Also: in this scenario, I'd be talking to Jason Castro about returning as the 1b to Jeffers' 1a.
Why would the Yankees do it? They badly, badly need a catcher. Right now, their depth chart at the position is Gary Sanchez, Kyle Higashioka and Erik Kratz.
Kratz turned 40 in June.
Higashioka is 30 and is a career .186/.221/.381 hitter who has struck out 37 times and walked none in his last two years of MLB experience (34 games).
Sanchez is so bad defensively that Higashioka was the team's preferred backstop in the playoffs. Sanchez also hit just .147/.253/.365 this season, and might be reaching the end of his rope with the Bombers. They probably won't non-tender him, but he's slated to make something like $5-6 million — and that's quite a bit for a guy who's team doesn't trust him behind the plate, and maybe not at it, either.
Twins trade Brent Rooker and Jordan Balazovic to the Angels for Dylan Bundy
The Twins are locked in with Kenta Maeda, Jose Berrios and Michael Pineda as their top-three starters. They've got some guys who would be plenty capable of filling in the rest of the way — like Randy Dobnak, of course — but adding a strong fourth option gives the Twins basically the same competition next spring as they had this past one: the battle to be the No. 5 starter.
Why would the Twins do it? So, why Bundy? Well the Twins had rumored interest in him this past deadline with the Angels sputtering through a disappointing season. At that point, Bundy had a year of club control left — MLBTR estimate of around $6-8 million or so — plus the rest of the 2020 season. With such a late deadline this past season, the amount of club control hasn't changed that much.
Bundy was brilliant with the Angels, too. In 11 starts, he posted a 3.29 ERA (2.95 FIP) with 72 strikeouts and 16 unintentional walks in 65.2 innings. He kept the ball in the yard, showed he can sustain a groundball rate in the 40 percent range and in general looked like the pitcher everyone hoped he'd be when the Orioles took him fourth overall in 2011.
Strange — do a lot of guys get better after leaving Baltimore? I digress.
The writing was on the wall for a long time that he could take a step forward like this. Even when things weren't going terrific in Baltimore, he'd generally strike out a batter per inning with good control but a significant home run problem.
How did Bundy fix it? Well simply put, it looks like he stopped throwing so many fastballs. Sure, his OPS against dropped from .942 on the heater to .743 from 2019 to '20, but he also threw it a lot less. Instead, he threw a bunch of sliders (.329 OPS against) and changeups (.671) and even threw a really good curveball (.067 OPS against) as well.
The improvement on the fastball helps a lot, but even if it isn't completely sustainable he looks like the kind of guy who can benefit a ton from a "less is more" approach with his fastball.
Why would the Angels do it? Do they need pitching? Sure. Do they need hitting? Also, yes.
Balazovic is a big-time prospect to dream on if you're the Angels — and he gives them a longer runway to success than Bundy, who is eligible for free agency after 2021.
Rooker doesn't have an obvious fit with the Twins, but he'd be a great replacement for the rapidly-aging Albert Pujols at first base as well as filling in at designated hitter when Shohei Ohtani pitches or in the outfield if need be.
The Angels have added the superstars. Now they need the glue. Rooker fills in the blanks for this team with high-priced superstars without adding much to the budget. They need more pitching beyond just Bundy, and Balzovic helps him move toward that goal more than an impending free agent does.
Twins trade Luis Arraez and Gilberto Celestino to the Nationals for Victor Robles
If anyone's going to blow me up #online it'll be over this one. But Robles to this point has been a little disappointing, Arraez is #good and the Nationals have a need at second base.
Why would the Twins do it? Honestly, if trading for Andujar was a "buy low" this is the quintessence of such a movement. Robles is a mega talent who has hit just .246/.318/.395 over his last 207 MLB games. Still, he posted just a 91 wRC+ last year and was still a plus-2.5 fWAR player with 17 homers and 28 steals.
The pieces are in place for him to be a five-tool guy. There's some Byron Buxton here, and he won't be 24 until May. If I'm being honest, the Twins would probably have to add another really good prospect to get Washington to even answer the phone. Maybe not even then. But again — we're just having fun here.
The Twins have the depth to move on from Arraez with Royce Lewis in the pipeline, and they could sign a decent stopgap like Cesar Hernandez or even Jonathan Schoop again until he's ready.
Do the Twins need outfield help? Not really. But Robles is the kind of talent that merits moving other guys aside — perhaps even trading some of the team's higher-end outfield prospect depth for starting pitching — to give them a shot.
Why would the Nationals do it? If I'm being honest, they wouldn't. But again, let's indulge in the fun for a minute.
Moving Arraez at this point capitalizes on his value — and he's further from arbitration paydays than Robles — and the Nationals were one of the teams most reliant on contact last season. Assuming that was no accident, Arraez would appeal to them in that respect.
If Celestino doesn't appeal to the Nationals, Akil Baddoo or Matt Wallner can be in the mix as well. One would suspect they'd want a dynamic type who can handle center field — which would rule out Wallner.
Again, this is some pie-in-the-sky wishcasting, but if we can't have fun with baseball, what are we doing here?
Twins trade Jake Cave and to the Royals for Jakob Junis
The Twins have the depth to move on from Cave, who was really, really good in 2018 and '19 before falling back a bit in a weird 2020.
Why would the Twins do it? There isn't a ton of need for a guy like Cave with the Twins, with LaMonte Wade Jr. in the mix as well as the team's upper-level outfield depth in the minors. Cave took a step forward defensively — especially in center — this year, and he was plenty good offensively (112 OPS+) to get a shot somewhere as a starter. He'll be especially cheap for another season, and he really picked things up down the stretch when he slashed .250/.308/.563 in 22 September games.
Junis, meanwhile, had a brutal 2020 — 6.39 ERA/6.23 FIP in 25.1 innings — and really hasn't put up pretty raw numbers over his career (4.78 ERA, too many homers).
But again, what the Twins would see here is a potential ball of clay to mold. Junis just turned 28 in September, and has some interesting peripheral numbers over his career.
8.1 K/9

2.5 BB/9

40-plus percent GB rate every year
Mostly, it just feels like there's something to work with here. Junis has a really good slider (14.5 percent career whiff rate, .560 career OPS against) but his fastball has been absolutely pasted over his career.
Maybe he can be reinvented as the next Matt Wisler?
Why would the Royals do it? Cave could pretty easily start in center for the Royals next year. Junis is just hitting his arbitration years, so he's going to get pretty spendy quickly for a guy who isn't make or break for the Royals, who'll have a lot of minor-league pitching ascending through the ranks as they continue their rebuild.